Glamping 101
Collaborating with the American Prairie Reserve on their recent gala, we found ourselves fascinated by this new glamping fad. In case you aren't familiar, glamping is basically a "luxury" "camping" experience- and yes, that does exist. From the photos we saw, the Kestrel Camp looked chic, comfortable and inviting. Of course, this isn't the only way to experience the Prairie, but the idea of having gourmet food and cocktails brought to you in the middle of the wild land sounds like the kind of camping we could get involved in.
Unfortunately for us in New York metro area, we don't have easy access to the grasslands of Montana, but we do have some pretty great woodlands and mountains that are a short car ride outside the city. It got us wondering, where are the glamping sites that we have easy access to in our area? And how fun would it be to plan a glamping birthday party, anniversary, or girls weekend?
Here is what our team of detectives at the No. 1 Ladies have dug up:
1. Firelight Camps Ithaca, NY
Owned by Food Network star and the woman behind Frisch Kitchen, Emma Frisch and her husband Robert have made this camp site into the ultimate "luxury" "camping" experience. If you are a foodie you will be in heaven, as Emma and Robert love to make communal s'mores and delicious breakfasts. Not only that, but there are games such as bocce ball on site. The camp is located on the grounds of a luxury hotel, and the glamping guests have access to the August Moon Spa. Basically, this campsite provides (almost) as much comfort as a resort.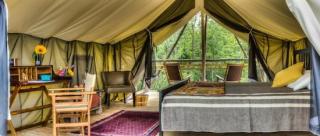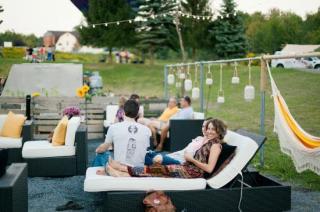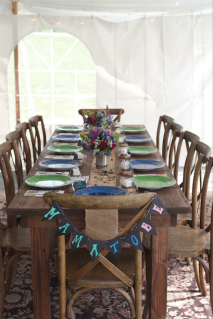 2. Blue Hills Farm Narrowsburg, NY
This glamping site is much more secluded than Firelight, and a great option if you want more of a woodsy "one with nature" experience. Surrounded by the Catskill's and Pocono mountains, there is a great river for fishing and trails for hiking. After a day's worth of nature based activities though, you can come back and crash on your large queen bed or relax with a book on a chair in the spacious and chic living room. Guests can also wander into downtown Narrowsburg, where there are quaint shops, restaurants and art galleries.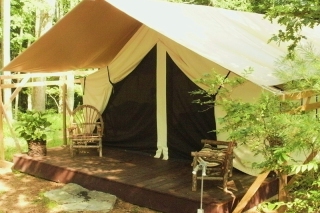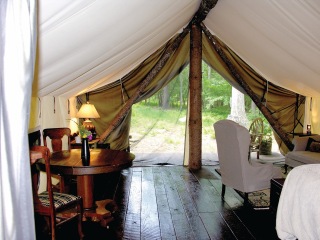 3. Camp Orenda Johnsburg, NY
Orenda is a happy medium between the secluded, one tent camp of Blue Hills and the chic, community feel of Firelight. Located in the Adirondacks, the site offers yoga, kayaking, archery, white water rafting, rock climbing, caving and even has wifi (thank god). All food and beverages are included in your stay, with fresh farm to table dining. Not to mention, check out where you would stay….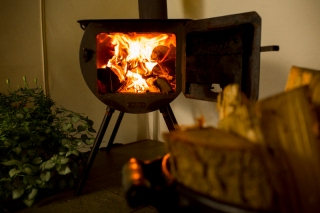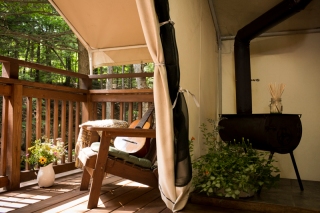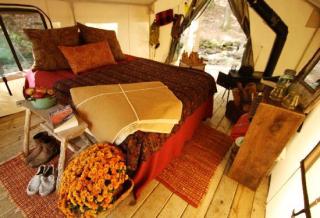 We don't know about you, but we are planning an MK trip already!
---
---