And the Award Goes to…
We love a good award show here at MK and what better way to kick off the award season than with some Tina & Amy, George & Amal, a Chrissy Tiegen stink face and a Downton Abbey win? Overall, we were surprised by most of the winners and are excited to check out the new movies and shows that took home the big awards. But mostly, as usual, we want to talk fashion. We took inventory and after a lengthy lunchtime debate came up with our top picks: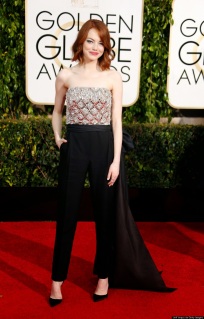 Ashley's pick: Emma Stone in Lanvin. The pantsuit is like the cooler, edgier version of the evening gown and has been everywhere this season thanks to designers like Stella McCartney, Saint Laurent and Narciso Rodriguez. You can always count on Emma Stone to look of the moment, and she can pull off looks that many people definitely cannot. Shout out to Lorde for also going this route.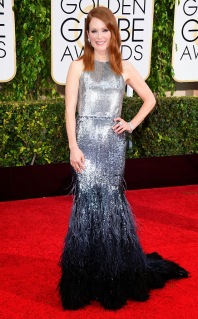 Emily's pick: Julianne Moore in Givenchy. The metallic and feather combo in theory is a definite risk, but here it's a red carpet home run. The Best Actress winner for her role in Still Alice smartly went simpler with her hair and smoky eye look. We can't wait to see what she wears at the Oscars because this one is going to be very tough to beat.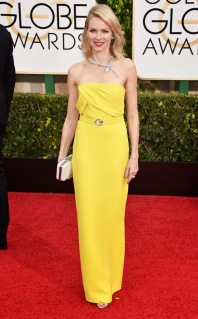 Mary's pick: Naomi Watts in Gucci and Bulgari. Naomi has such a timeless look about her, and we love that she went with a timeless designer and a timeless piece of jewelry. This yellow color is such a standout and was also gorgeously worn by Leslie Mann. Gucci seems has taken a backseat to some younger designers recently, but not with this piece. The look would not be complete without Bulgari's signature serpentine.
Other honorable mentions included Sienna Miller in Miu Miu (controversial, we know, we don't care), Emily Blunt in Michael Kors and and Kate Beckinsale in Elie Saab.
Our worst dressed list includes (dare we say it- we love them all) Jennifer Anniston, Tina Fey and Rosamund Pike.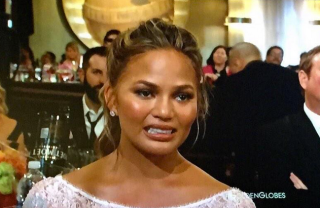 ---
---